Ty Roderick, Kyler Ash, Lance Hart, Nick Capra, Connor Maguire, Kyler Ash, Nick Capra, Connor Maguire in "His Daughter's Boyfriend" at Icon Male
Data Released: Jan 20, 2015
Featuring : Connor Maguire, Kyler Ash, Lance Hart, Nick Capra, Ty Roderick
Gorgeous Nick Capra stars as the perfect dad who finds himself struggling with an intense attraction to daughter Siri's new boyfriend Connor Maguire. As Nick and Connor grow closer, Siri learns that Connor may not be what he seems, and that it may be her father the young, muscular hunk really craves.
His Daughter's Boyfriend, Scene #01: Ty Roderick, Kyler Ash
His Daughter's Boyfriend, Scene #02: Lance Hart, Nick Capra
His Daughter's Boyfriend, Scene #03: Connor Maguire, Kyler Ash
His Daughter's Boyfriend, Scene #04: Nick Capra, Connor Maguire
Connor Maguire is becoming very close with Nick Capra's daughter, Siri; until she finds out that her boyfriend was seen leaving a gay bar. Nick comforts his concerned daughter, while across town Connor gets a phone call from his friend Ty Roderick. Ty called because he wanted to tell his friend about his latest hook up with a hot guy from the bar named Kyler Ash. The guys barely said two words to each other before they found themselves making out in the bedroom. Kyler can't wait to put his hands all over Ty, kissing his nipples and his trimmed chest. Both boys quickly strip the rest of their clothes off and Kyler props himself up to sit on Ty's rock-hard penis. Ty flips him around to get on top, and chokes the twink lightly as Kyler encourages him to thrust harder. Ty finishes by cumming in Kyler's mouth while getting his balls licked, and Kyler jerks himself to completion. Back on the phone call, Ty sends Connor a text with Kyler's number on it to give him a call, if he ever felt inclined.
Nick Capra is sitting in bed, reflecting on a hot memory of a late night spent with his co-worker Lance Hart. They were working together on a tough case that was probably going to go to trial. Nick asked Lance if he was seeing someone, and he confesses that he has been seeing a guy, but it's not serious. Lance also says that Nick set off his gaydar, and asks him if he ever thought about experimenting. Lance leans in and kisses Nick hard on the lips. They eagerly start undressing, and Lance starts feeling a bulge growing in Nick's pants. He removes the trapped member and starts licking and gagging on it. Nick shoves Lance down on the couch and watches with desire as his co-worker starts licking and fucking his feet. Nick teases him until Lance throws his legs up over his head and lets Nick fuck him senseless. Lance is sent over the top and he blows his load over his own trimmed pubes. Lance cups Nick's balls until he blasts himself with semen.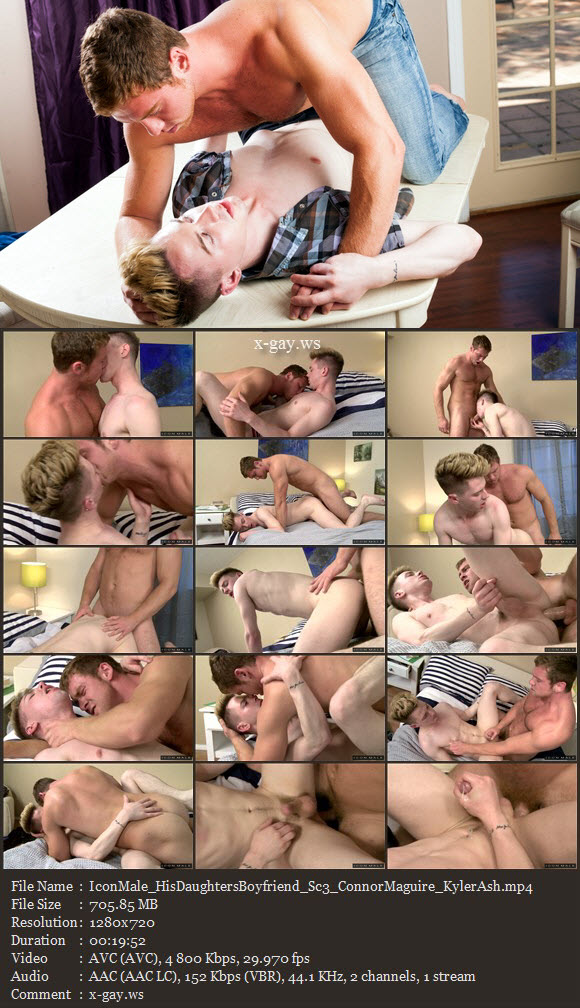 Connor Maguire is not able to get a hold of his girlfriend, Siri. He looks at his phone and sees the number for the cute guy he saw at the gay bar the other day, Kyler Ash. Connor gives in to his desire for man meat, and calls the twink over. Moments later, they're shirtless in the bedroom, making out. Connor takes Kyler's pants off and rubs his bulge through his jockstrap. Then, he removes the jockstrap to suck his dick and lick his shaved balls. Kyler lays out on the bed and sucks Connor upside down, encouraging him to slide his dick further down his throat until Connor is dripping precum. Kyler looks back as Connor enters him and starts fucking him doggy style on the bed. Then Connor fucks him on his side and on his back until the mattress starts squeaking. Connor's ass cheeks clench until he's ready to explode all over the mess Tyler made on himself.
Connor Maguire shows up at Nick Capra's place to see if his girlfriend is there, as she isn't returning his calls. Nick tells him that she has gone on a trip to Miami with her girlfriends without telling him, because she suspects him of being gay. Connor admits to Nick that she's probably right, and that he's been lying to himself because lately he's been more attracted to his girlfriend's father. Both men come together for an erotic kiss, groping each others muscles. Nick guides Connor to the couch where they both remove their shirts to tease and lick each other's nipples. Nick hungrily licks Connor's toes and kisses down his abs until he gets to his erect dick. Connor drops to his knees and blows Nick until they're both rock-hard. 'You're so tight.' says Connor as Nick bounces on his dick. Connor manages to suck Nick and fuck him at the same time, making Nick cry out in satisfaction. Connor jerks Nick while fucking him until they're both ready to blow.